Are you a football fan? If so….then this sign is for you! For the first year both my boys are playing tackle football and we couldn't be more excited! The first couple weeks were a little rough getting used to with the constant football actions and conversations of football when they were not wrestling around the house. So…When I went into dollar tree one day to break away from the crazy I could NOT pass this sign up and new I had to do something with it! There was no way I was leaving with out that glitter football. 🙂

I had to do a little switching up and mixing and matching to make this adorable sign for my front landscaping! There is an optional step to add the pumpkin but it would be cute wither way!
Hoping with these few simple steps I can teach you how to make one too!!
Supplies :
~Dollar tree glitter football sign
~Dollar tree thankful and blessed pumpkin sign
~Glue gun
~Black,brown, white, orange and green acrylic paint
~One Thicker bristle paint brush
~ 1 Thin bristle paint brush
Optional ~ Poster letters or stencils to make letters
MY DOLLAR TREE ITEMS
You could leave the pumpkin off the back but it added a little fall feel to the sign. The sign would be much more simple and adorable even if it was by itself! I have had this sign out for a few days now with the rest of my fall decor and my boys love that it sits out front! And the Bonus is that from the back it is a sign too!!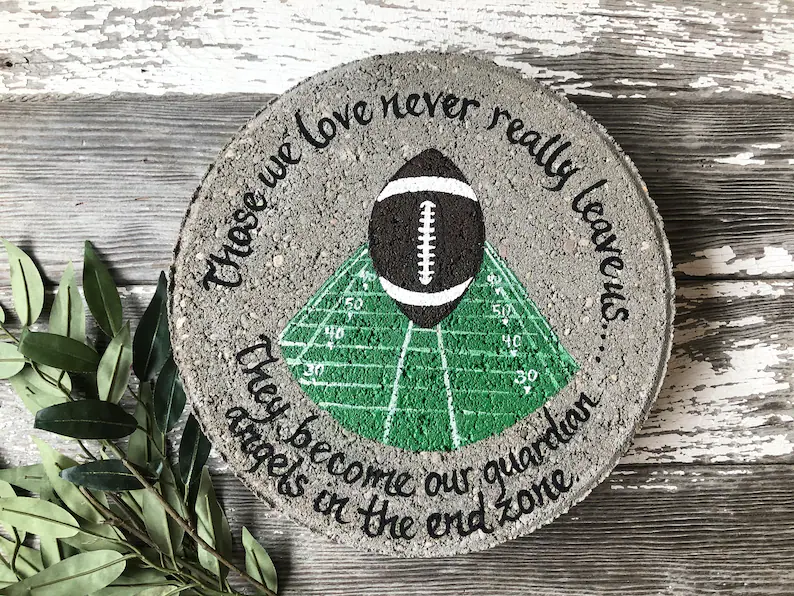 I hope I taught you something new!! Happy Fall to you ALL!
Make sure you are following me on all my social media channels at:
WWW.PINTEREST.COM/SAMDESIGNS22
WWW.FACEBOOK.COM/SAMDESIGNS22
WWW.INSTAGRAM.COM/SAMDESIGNS22
WWW.ETSY.COM/SHOP/SAMDESIGNS22
Happy Painting!
Love, Stephanie Miller
SAM Designs
Make Sure you are follow me on my other social media channels!